Home Spun Yarns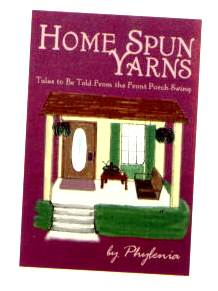 Written by former Welch High School student, Phylenia Snow.
This book will warm your heart and have you smiling as one woman shares the joys and the oft unsettling moments of making a home and raising a family.
A candid account of lessons learned and insights gained, it will cause you to chuckle and move you to tears. It's a book you will not soon forget. You're invited to share in Phylenia's nostalgic journey to a time when life was so much simpler. Experience the devotion of a mother's love in Home Spun Yarns.
Phylenia (Snow) French, born in 1946, was raised in the small coal camp of Carswell, West Virginia. Married for 35 years, mother of a son, a daughter and one granddaughter, Phylenia attended Welch High School in the early 60s, graduated from nursing school in 1975 and worked in that field intermittently over the following 16 years. After taking a break from the medical field to work on her book project, she has returned to the work force as a secretary/receptionist at Virginia Polytechnic Institute.
Growing up, Phylenia learned to be resourceful and productive; such were the ways of life in the southern West Virginia coal camps. From the onset of her marriage, she began keeping notes on the many humorous events that occur in a young "resourceful and productive" wife's life. These events, along with many of her "cook from scratch" recipes, she shares with us in this book.
Phylenia and her husband currently live in Christiansburg, Virginia, where she does readings in retirement communities. On invitation, she read from her book at a writer's workshop at Warm Hearth Village which Nikki Giovanna (a university professor and author) conducts each month. Also, she does presentations at Virginia Tech's adult day care center and other events at Warm Hearth Village. Phylenia's husband, Buddy, also writes and his article, A Coal Miner's Story, was published in a recent issue of GOLDENSEAL magazine.
For a sample "tasting" of Phylenia's writing, read her "Memories of a Coal Camp Childhood" and "The Stranger at the Foot of the Mountain" articles at the Southern Scribe web site.
Phylenia French receives mail at 230 Majestic Drive, Christiansburg, Va 24073.
---
WHS Alumni Web Site