---

Love Blooms, Grows, and is Rekindled On the Hill
Featuring Couples from Welch High School
(page 3)
Awyn Wheeler and Dale Walls
Dale went through the 10th grade at WHS and Awyn is a graduate of the class of 1948. They were married in April 1950, one year and 4 months after the night Dale asked to walk Awyn home from church. Dale and Awyn have three sons, two daughters and one grandson. They currently reside in Kingsport, TN.
Wanda Chapman & Michael F. Brown
Michael, class of '70, and Wanda, class of '72, met while students at WHS. They have 2 children. Daughter Christie is married, has 2 children and is currently stationed on the aircraft carrier, USS Theodore Roosevelt. Son Bobby is stationed on the USS Enterprise. Both have served in the Middle East. Michael is an ordained minister and works at Fanning Funeral Home. Wanda works at the McDowell County Board of Education. They currently live in Kimball and celebrated their 28th wedding anniversary on June 18, 2000.
Anita Collins & Bob Martin
Bob was a member of the 1953 graduating class. Anita attended Welch High School with the class of 1957 through the 10th grade when she moved to Kentucky where she finished school. "We met through Bob's sister Gwen, WHS Class of 1955. We were married in 1957 and will celebrate our 50th wedding anniversary on October 19, 2007. We have one son and two daughters who have blessed us with three grandsons and two granddaughters. We have been fortunate enough to have spent our entire married life near home in Southern West Virginia, living in Beckley for 30 years before retiring to our Smith Mountain Lake home in 2003."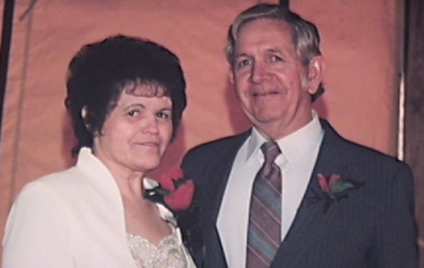 Duane Smith & Shirley Jenkins
Duane, who graduated from Welch High School in
1957 and Shirley, who would have graduated in 1958 celebrated their 42nd wedding anniversary this year (2000).. They both grew
up in Capels.
Kathryn Clifton & Thomas Hurd
Kathryn, class of '42, lived on Hobart Street in Welch until age 16 when her family moved to Davy. She and Tom, class of '39, were married December 15, 1945, after Tom had served 4 years in the Air Force. They have one daughter, Susan, and four grandchildren. They have resided in Berkley, Michigan since 1953. Note: Tom died in April 2005.

Lena Tench & W. Strother Tabor
Parents of Fairfax Tabor, WHS '33, Toddy Tabor, WHS '35, Phyllis Tabor Money, WHS '39, Richard Tabor, WHS '51, and grandparents of Penny & Pam Money WHS '64, and Melody Money WHS '71. Strother and Lena graduated from Browns Creek District High School, the first high school in McDowell County. They are pictured above celebrating their 65th wedding anniversary in 1978.
Karen Lane and Jerry Randell Hatmaker
Randy and Karen met at Welch High School in 1973 while changing classes. They married November 26, 1974. They now live in Mt. Airy, NC. Randy is a Maintenance Technician for a steel company and Karen is a Specification Technician in the Engineering Department for Lands End and LL Bean. They have 2 children, Angie and Jerry, who also live in Mt. Airy with their children, Miranda, Savannah, Chloe, and twins, Malachi and Matthew. Karen and Randy enjoy spending their free time with their children and grandchildren and still enjoy the love they found for each other so many years ago "on the hill."
---